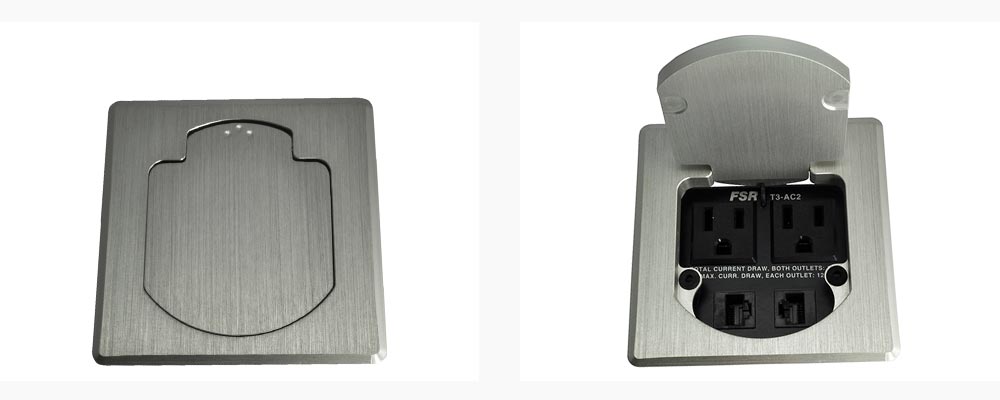 Round or square tabletop power, data, and voice grommet. Metallic unit with flip up lid. Size is 3.88″ diameter or 3.88″ square x 2.63″ high when lid is open. This Unit is UL Listed. The grommet is available in three finishes.
Standard Items
Power outlet(s), RJ45 Cat5e data jack(s).
Optional Items
Anodized Black, Brushed Aluminum or Brushed Brass finish, RJ11 cat3 jack, 15 pin VGA video connector. Hardwire ready unit. Please contact us for pricing.
| Option # | Finish | Cord Type | Bezel | Data | Voice | VGA | Mini Stereo |
| --- | --- | --- | --- | --- | --- | --- | --- |
| 171-A | Black | 72″ with Plug | Round | 1 | 1 | 1 | 1 |
| 171-B | Black | 72″ with Plug | Round | 2 | 1 | 1 | 0 |
| 171-C | Black | 72″ with Plug | Round | 2 | 2 | 0 | 0 |
| 171-D | Black | 72″ with Plug | Round | 1 | 2 | 0 | 0 |
| 171-E | Black | 72″ with Plug | Square | 1 | 1 | 1 | 1 |
| 171-F | Black | 72″ with Plug | Square | 2 | 1 | 1 | 0 |
| 171-G | Black | 72″ with Plug | Square | 2 | 2 | 0 | 0 |
| 171-H | Black | 72″ with Plug | Square | 1 | 2 | 0 | 0 |