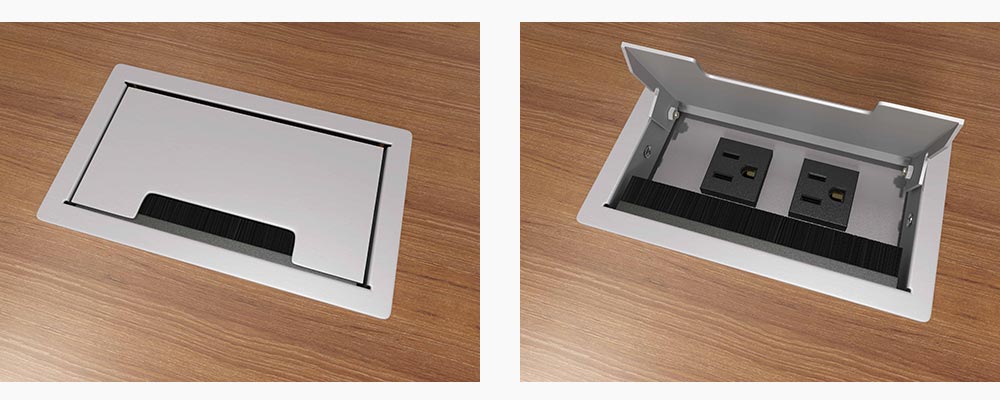 The Villa Single Circuit Series is a flexible power data system consisting of a power base which is mounted beneath a work surface and a selection of grommets allowing customization of the table top. The unique convenience receptacle, located on the power base, provides easy access for meeting various ancillary power requirements. The Villa is great for training tables. The unit is available in 5 different metal finishes. The Villa is UL listed. The metal lid is 5.68″ x 3.39″ when closed.
Standard Items
Two15 amp power outlet(s). RJ45 data jack(s).
Optional Items
RJ11 Voice Cat3, 15 Pin VGA Video, 3.5mm mini stereo, longer power cords, daisy-chaining of power, cords up to 108" long. Call us for pricing.
Option #
Finish
Lid Type
Cord Type
Power
Data
Voice
HDMI
VGA
Mini Stereo
183-A
Black
Metal
72″ with Plug
2
2
0
0
0
0
183-B
Black
Metal
72″ with Plug
2
1
1
0
0
0
183-C
Black
Metal
72″ with Plug
2
1
0
0
1
1
183-D
Black
Metal
72″ with Plug
2
0
0
0
0
0
183-X
custom unit